September Business & Finance Fridays
10:21 08 September
in
News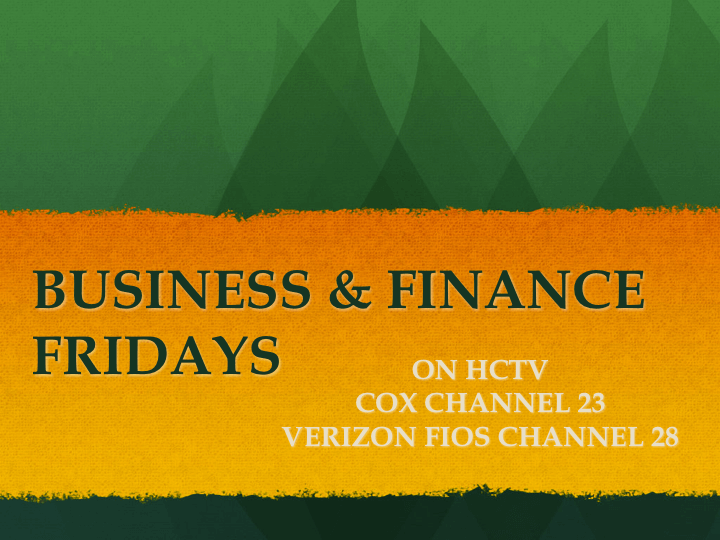 Circles of Influence: Episode 32
Fridays @ 10:00 AM, Sundays @ 7:30 PM New Time, and Wednesdays @ 3:30 PM
On this episode of Dulles Regional Chamber of Commerce's Circles of Influence, Eileen sits down with several guests to talk about up-coming events. Get the inside scoop about the up-coming Fairfax County BrewFest 2017from Mustang Sally Brewing Company's owner, Sean Hunt and Susan Brooks. Also, find out the latest happenings of the Chamber's Hispanic Business Council from Angie Carrera and Rebecca Mejia.
2017 Dished
Fridays @ 10:30 AM and Wednesdays @ 10:00 AM
On this program catch highlights from the Dulles Regional Chamber of Commerce's chef competition program.
Get a Job Show: Episode 4
Fridays @ 11:00 AM and Wednesdays @ 8:30 AM
Get a Job Show helps job seekers with their careers. On this episode, expert consultant Rick Gillis' guests are Author Patricia Jackson and Jill Silman, Vice President of Meador Staffing Services.
Money Doctor: Episode 50
 Fridays and Wednesdays @ 11:30 AM
Frances Rahaim, PhD interviews JEHH Foundation Founder Adam Harrington.
The Language of Business: Money Management
Fridays and Tuesdays @ 12:30 PM
Making your money work for you is never easy, and it can be very confusing–even for those within the business. In this episode, the show looks at the Federal Regulations that are going to affect money managers, find out who trains the experts, and learn if there is a difference between an independent adviser, and one that works with your bank.
Business Neighbors with Keil Johnson: GreenFare Organic Cafe
Fridays @ 1:00 PM, Mondays @ 11:00 PM and Thursdays @ 8:30 PM
On this episode of Business Neighbors Keil Johnson sits down with Gwyn Whittaker, CEO & owner of GreenFare Organic Cafe and talks about what inspired her to not only change her diet but open up a restaurant to help others take steps to change their diet.
RetireSense
 Fridays @ 2:00 PM
RetireSense focuses on the basic principles for understanding your rights and entitlements on the Medicare program.
Money Talk: Advice for When Your Adult Child Moves Back Home
Fridays @ 2:30 PM
On this show, Jack talks to Certified Financial Planner, Lawrence Albert, about the increasing probability of adult children moving back home. They discuss the different approaches parents can take to help, not hinder, both of their financial futures and ensure a smooth transition through this phase.
Language of Business: Pivots
Fridays & Tuesdays @ 12:30 PM 
Every once in a while you have to stop, look up from what you are doing, and decide the best course for the future. Thinking of the big picture is tough when you are mired in the day to day. Hear four stories of businesses that are continually looking for what will help their business and your business get to that next level. Pivots, on this edition of the Language of Business.