May Business & Finance Fridays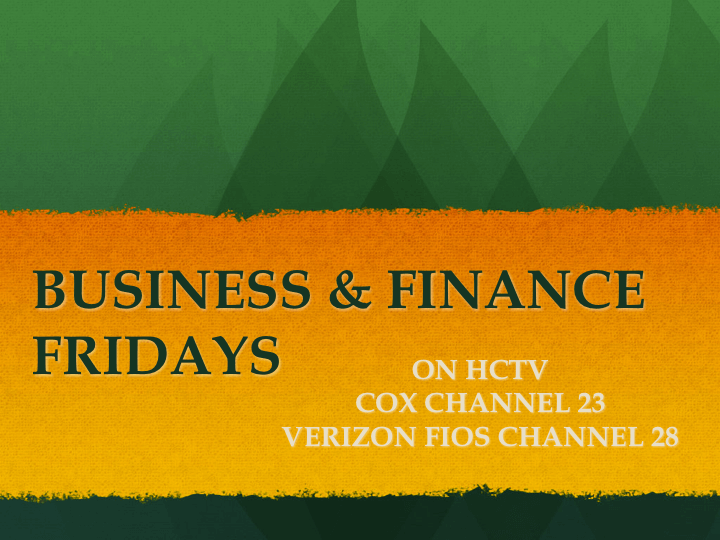 Circles of Influence: Episode 29
Fridays 10:00 AM, Sundays @ 7:00 PM and Wednesdays @ 3:30 PM
On this episode of Circles of Influence, Eileen Curtis sits down with Val Kaiser from EldenStreet Financial to talk about financial planning. Next Eileen chats with Brain S. Diemar from Kaiser Permanente about their wellness programs. Finally Eileen's last guest is Jerimie Batac who recently founded a non-profit called My Health Matters.
Get a Job Show: Episode 3
Fridays @ 11:00 AM and Wednesdays @ 8:30 AM
On this episode of Get a Job Show, consultant Rick Gillis continues his series to assist job seekers. This episode features guest, Laura Morales, who is a speaker, trainer and job coach. Also on the show is Annette Monks, President of Carlton Staffing.
Money Doctor: Episode 35
Fridays & Wednesdays @ 11:30 AM
Frances Rahaim, PhD interviews entrepreneur Peter Rosskothen, owner of The Delaney House, Log Cabin, and D Hotel.
The Language of Business: Medical Devices
Fridays & Tuesdays @ 12:30 PM
Someone has to supply the machines and supplies needed to make our hospitals and clinics work. It is a fascinating world at the cutting edge of technology, yet it is often taken for granted. Greg meets some of the people who are pushing this industry forward in today's episode.
The Law, Your Money & You: Unclaimed Money
Fridays @ 2:30 PM and Mondays @ 9:30 AM
The guest for this episode of The Law, Your Money & You is Marco Sandonato. He sits down with hosts, Roberta Saphire and Camille Barron, to talk about unclaimed money and being a landlord tenant. In the state of Virginia, you can see if you have unclaimed property on the Virginia Treasury Website:
https://www.trs.virginia.gov/vaMoneySearch/Account/LogOn