April Business & Finance Friday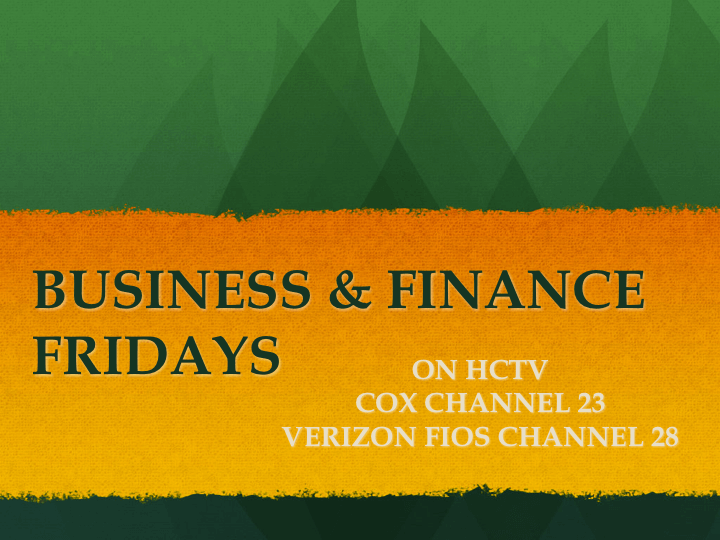 Circles of Influence: Public Policy Special
Fridays @ 10:00 AM, Sundays @ 7:00 PM and Wednesdays @ 3:30 PM
This month's episode of Circles of Influence is an one hour special featuring a recent discussion on "Business Insights for Navigating the Trump Administration." On March 8th, Dulles Regional Chamber of Commerce hosted a panel discussion with experts Michael Pocalyko, CEO of Monticello Capital; Jeff W. Dick, Chairman and CEO of MainStreet Bancshares, Inc. and MainStreet Bank; and Dr. Terry Clower, Northern Virginia Chair and Professor of Public Policy at George Mason University. The panel focused on how possible policy changes may impact businesses.
Get a Job Show: Episode 2
Fridays @ 11 AM and Wednesdays @ 8:30 AM
Consultant Rick Gillis offers tips on resume writing and interviewing with guests Career Strategist Cecilia Rose, and Global Human Resources Leader Roger Ferguson.
Money Doctor: Episode 33
Fridays & Wednesdays @ 11:30 PM
Frances Rahaim, PhD interviews Jack Baker of The Northern Lights and The Busters. They discuss his experience of being in the music industry as a young adult and some of the music deals he made along the way.
The Language of Business: Disruptive Technology
Fridays & Tuesday @ 12:30 PM 
Every once in a while you run into a product or technology that changes the way you look at everything. On this episode of The Language of Business, they have four products that are hoping to do just that.
The Law, Your Money, and You!: To Sue or Not to Sue
Fridays @ 2:30 PM 
Emily Smith Lee joins Roberta Saphire and Camille Barron to discuss the topic: To Sue or Not to Sue.