March Business & Finance Fridays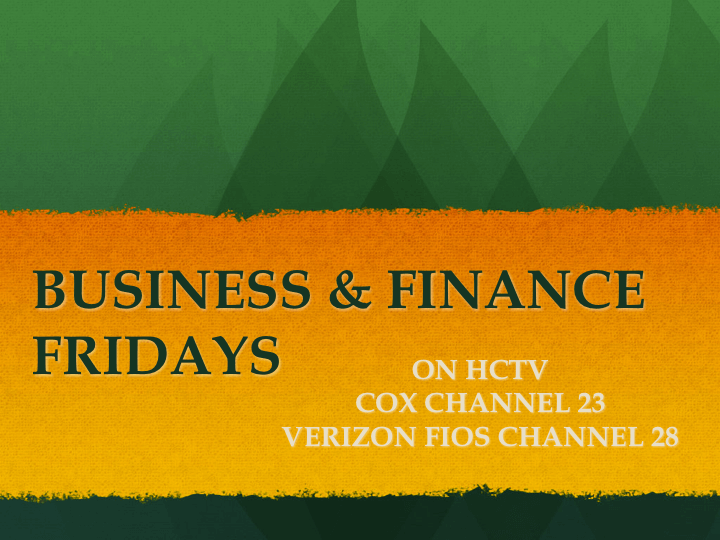 Get A Job Show: Episode 29
Fridays @ 11:00 AM and Wednesdays @ 8:30 AM
This episode features guest, Cecilia Rose who is Executive Career Strategist.

Circles of Influence: Public Policy Special
Fridays @ 3:30 PM, Sundays @ 7:00 PM and Wednesdays @ 3:30 PM
This month's episode of Circles of Influence is an one hour special featuring a recent discussion on "Business Insights for Navigating the Trump Administration." On March 8th, Dulles Regional Chamber of Commerce hosted a panel discussion with experts Michael Pocalyko, CEO of Monticello Capital; Jeff W. Dick, Chairman and CEO of MainStreet Bancshares, Inc. and MainStreet Bank; and Dr. Terry Clower, Northern Virginia Chair and Professor of Public Policy at George Mason University. The panel focused on how possible policy changes may impact businesses.


Money Doctor: Episode 30
Fridays & Wednesdays @ 11:30 AM
On this episode of Money Doctor Host, Frances Rahaim, PhD, interviews Bankruptcy Attorney Steven Weiss. They discuss some of the common misnomers of bankruptcy; what assets can be protected from bankruptcy and more.
The Language of Business: Angel Investing
Fridays & Tuesdays @ 12:30 PM
Those unfamiliar with the term can easily imagine the function of an angel investor–those who dare to march in where conventional funders fear to tread. They are behind some of the most creative and cutting edge of businesses. In this episode we look at both those who invest, and those who benefit from these daring speculators!
The Law Your Money and You!: Gary Bloom
Fridays @ 2:30 PM
On this episode of The Law Your Money and You, hosts Roberta Saphire and Camille Barron sit down with attorney Gary Bloom. He is a intellectual property lawyer and he breaks down the basics of patents, trademarks and copyright.