Business & Finance Fridays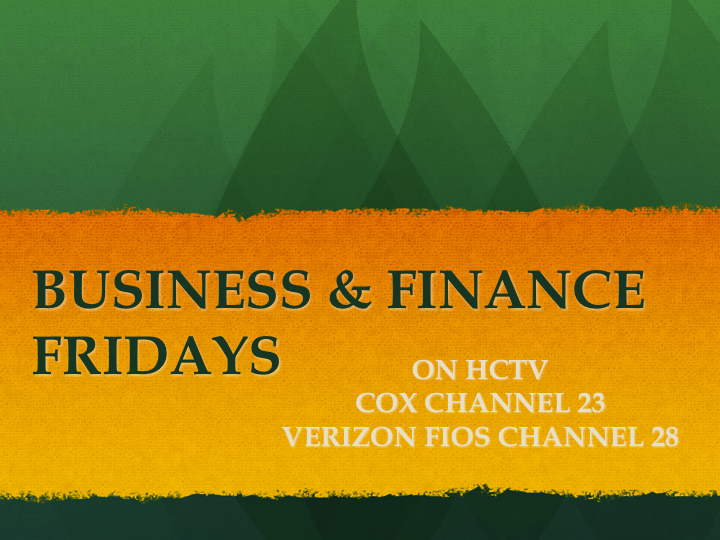 The American Legion Entrepreneur Series
Fridays @ 11:00 AM and Mondays @ 8:00 AM
Although this series is geared towards military veterans translating their experience and assets to start a business, anyone interested in starting their own business will get invaluable advice from the featured business owners.  The final chapter of this series focuses on a case study of one of the businesses featured in the series.
Money Matters
Fridays and Wednesdays at 11:30 AM
Jim Butler of Videre Wealth Management & David De Witt of De Witt Capital Management talk with Chantal Westby of Westby Art about art and the business of art.
The Language of Business: Branding
Fridays and Tuesdays @ 12:30 PM
Think of the biggest icons in business…In your mind, did you see a logo, or did a name spring to mind? And what do you think of when you hear the name Coke, FedEx or Nike? Branding has a powerful impact on the choices people make when purchasing any item or service. In this episode, Greg Stoller begins to explore different aspects of the culture and power of branding.
Get a Job Show: Episode 11
Fridays @ 1:00 PM and Wednesdays @ 8:30 AM
Consultant Rick Gillis continues his series to help job seekers with their careers. Guests on this program include Elizabeth Campbell a Partner with Andrews Kurth LLP and Helen Cavazos, Principal MH Cavazos &Associates. This episode deals with Diversity in the Workplace.
Skills to Pay the Bills: GovPartners Officials on Government Contracts
Fridays and Wednesdays @ 2:00 PM
On this episode, host, Tia Young, sits down with Cynthia Karnik and Jeff Beck from GovPartners, a successful small business government contracting firm. They share stories about their company and how they have been successful with government contracting opportunities.